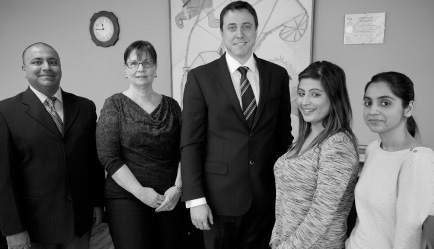 Complete Accounting is located in Surrey, Kelowna and Penticton, B.C. Our services are provided by a group of award winning Public Business Accountants and consultants with extensive experience working with a variety of clients. We specialize in corporate taxation, reorganizations, and offer retirement tax planning for business owners.
The goal of our business accounting and bookkeeping services is to provide each client with the most efficient and cost effective solutions possible for each unique situation. The cornerstone to this goal relies on striving to save every client as much tax as is legally allowable under the governing legislative acts. In doing so, we look for the best overall solution, not just the easiest or cheapest accounting route. Our success is defined by your savings, our CRA audit track record, and client referrals & testimonials.
The expert staff experience is broad. We offer assistance to every type of client whether it's personal accounting, small business accounting, or corporate accounting. But despite the broad range of services, there is one ultimate goal at which we are excel – achieving cost effectiveness. This ultimate goal fits all clients from the individual to the large corporation because saving money is a universal objective.
That is what sets our accountants and services apart from others – we focus on the client and not just meeting government regulations. Almost any individual can use an off-the-shelf software package and create financial statements that are accepted by government standards. They can even prepare and file their own tax returns. Likewise, a corporation can hire an internal accountant who records numbers that satisfy accounting regulations.
But it takes experience, knowledge, and expertise to go beyond the technical and provide the kind of support and advice that can help you save taxes and use your money as wisely as possible. The expertise offered begins at the top of our company with the owner and President of Complete Accounting Solutions. He has experience in training small business accountants and bookkeepers to guide clients through every step of the full-cycle accounting process.
Individuals new to small businesses and corporations often fail to consider their tax planning and reporting needs upfront. Our tax saving strategies get them back on track and takes the stress away from their bookkeeping and income tax filings. Our accounting team reinforces the need to properly save all invoices, receipts and statements. This is necessity for accurate books and records, as well as supporting the file in the event of a CRA audit. Apart from taking over your bookkeeping and income tax returns, we can also assist with timely payroll, WCB, and GST reporting so you can stay focused on your business. Furthermore, we pride ourselves in working in the best interest of our clients. If you are considering incorporating when it is not necessary, we will advise you of the additional cost that can be avoided by staying a sole proprietorship. Sometimes it makes sense to incorporate due to other factors even if the tax savings don't offset the additional costs, but we believe that is an informed decision each client should make for themselves before spending their hard earned money.